Echo Global Logistics Murals

Design by Thirst

Concept/Direction Rick Valicenti
3D/Illustration Zach Minnich,
John Pobojewski, and Anna Mort
Design Rick Valicenti, Kyle Green

According to Robert Benson
Design Principal, CannonDesign

Echo Global Logistics, a leading provider of technology-enabled transportation and supply chain management services, recently expanded its headquarters, doubling it in size and adding 1,000 seats to the workplace. CannonDesign led the design of the new space, with the goal of creating an architecture out of Echo's mission and capturing the unique spirit and culture of the organization. The space itself, a former catalog warehouse, was full of character but needed some improvements to the infrastructure to support the large incoming population. One of those improvements was increased restroom capacity, which took the form of four 55 feet wide by 12 feet tall blocks freestanding within the workplace, similar to the size and proportion of a semi-trailer.

Art in the Workplace:
CannonDesign brought on Thirst to create large-scale art pieces for the four blocks. In keeping with the architecture, the design translates the values of "The Echo Way" using cues from the trucking industry. Here, the natural expression of those cues was semi-trailers, specifically custom rigs. Thirst collaborated closely with CannonDesign to consider the spatial context of each piece to find a balance between the message, concern for visual fatigue, and trappings of the literal.

Concept to Detail:
The scale of the pieces makes them architecturally significant and defining landmarks within the workplace. The manner in which they were executed makes them relevant and bold. The fabrication was carefully studied to deliver visual depth and delight to the touch. Each graphic was direct printed to individual metal sheets, which were then coated with metalflake and lacquer for a car paint finish.

The design of the murals was directed by Rick Valicenti along with designers Kyle Green, Zach Minnich, Anna Mort, and John Pobojewski.

Special thanks to John Cisco and his team of fabulous craftsmen at BluEdge.



Patriotic inspiration.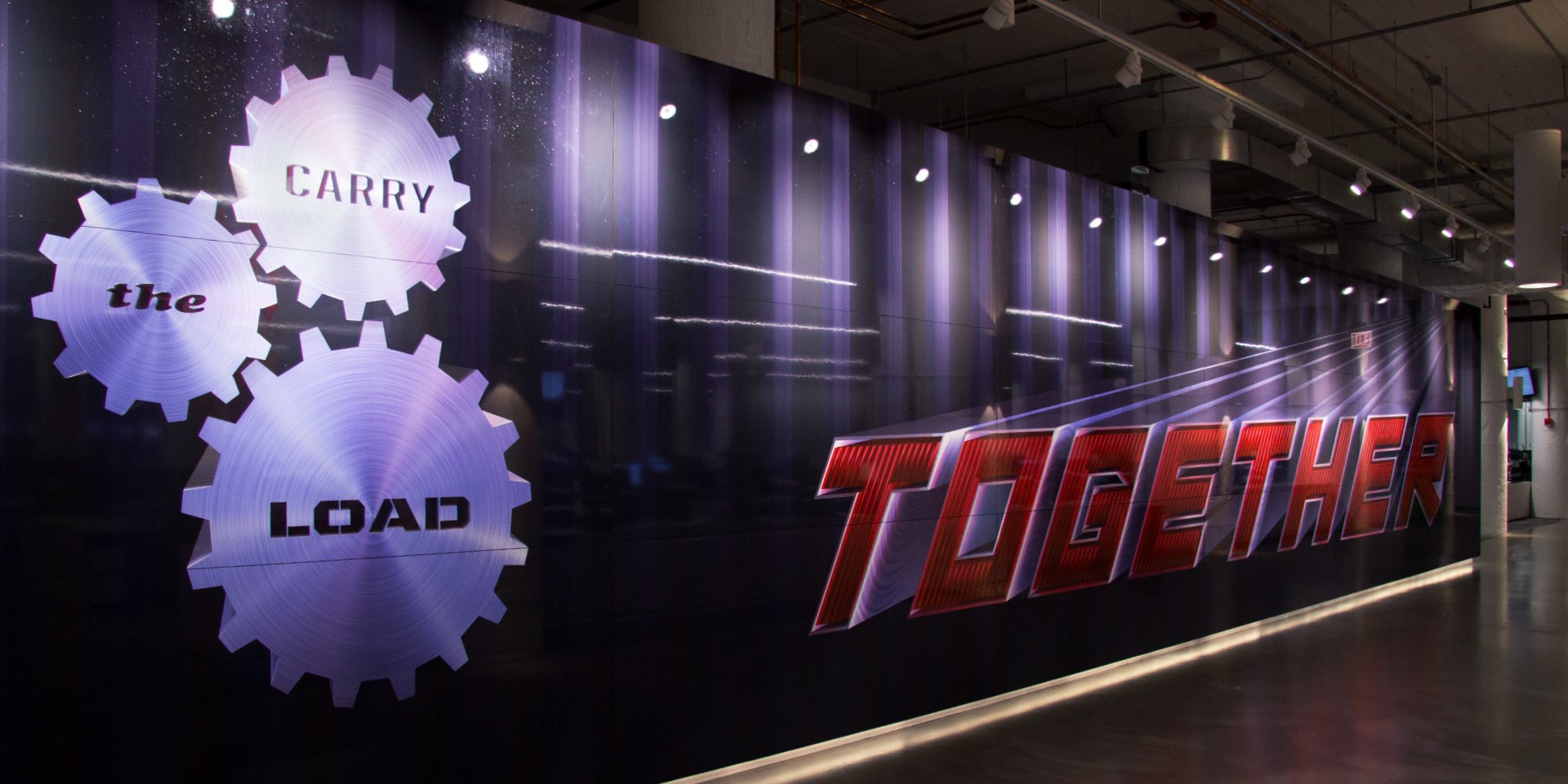 Brake lights and extruded type inspiration.